While I'm still working on the daisy chain I became sidetracked which, anyone who is creative knows, happens easily. You know, it's the old, "I am listening to you I heard every word you.........LOOK, a squirrel!" syndrome. :)
I found some vintage brass stampings I've had for awhile when I was doing some studio reorganizing. Translation: Help me, I'm buried! I was inspired, since it is that time of year, to create some earrings.
These are up for sale in my
Etsy
.
I found just the plain brass stampings a bit boring so I did some patina and gilding work on them. Then I made some tiny (8mm, not as small as I can go but pretty darn small) lampwork rounds and added some swarkies and wire wrapped it all with sterling silver. I really enjoyed just playing with different variations on a theme and it was a quick way to use up some extra supplies.
I've also been doing more flowers and leaves. I'm really enjoying those. I made a HUGE necklace for a client and it's already in CA somewhere, I forget which town and of course I forgot to take a picture before it went out the door. *sigh* I had some leftover flowers and leaves and those are up on
eBay
now as an orphan lot. Not that I don't love them, lol.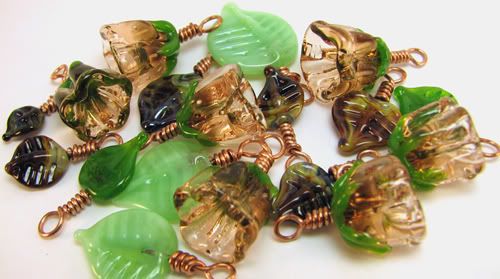 So what have you been up to lately?